Custom order options:

1, Custom order BNC input /output:
The RCA coaxial input sockets can replace by BNC sockets , cost is USD10/per without shipping delay .



2, Upgrade the TCXO :
In the DI-V2 had one clock can be upgrade, upgrade to TCXO price +USD20.
In the DI-DSP have two clock, one is for the TE8802 (12MHz), another is for upsampling (24.576MHz), upgrade price is +USD20 per, if customer ask upgrade TCXO while place the order but without confirm upgrade two clocks, we only quote the price of upgrade the 12MHz TCXO for TE8802.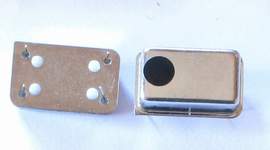 3, Upgrade the power supply :
The DI-PSU built in 7.5V / 600MA class A PSU, cooperate with the DI can become double stages class A PSU , offer clear power supply for the circuits. DI-PSU price USD75 without shipping cost , include 1 unit PSU, 2 units DC wires, 1 unit power cable . (The DC plug outside dia. is 5.5MM, inside hole dia. is 2.5MM)