Click to read the USB-32 character USB-32 Introduce

Reviews:
http://www.tonepublications.com/macro/audio-gd-reference-10-2-dac-and-more/
http://www.head-fi.org/t/601259/audio-gd-reference-10/135#post_8543066
http://www.digitalaudioreview.net/2011/04/audio-gd-reference-71-dac-8-x-pcm1704uk/

DAC / Headphone amp / preamp all in one
Fully balanced design built by discrete analog stages without any OPA or coupling caps in the signal channels.
Non- feedback ACSS analog output stage .
Uses three R-core transformers (135W total), separate power supplies for the digital components, right and left channels.
More than 50,000uf audio grade NOVER capacitors are used to ensure ample and smooth power supply.
A total of 9 groups class A PSU's are used to purify the power supply. To achieve a high S/N ratio, the control circuit is powered with separate regulators.
Uses high-grade parts and exactly matched transistors.
Four channel 99 steps digitally controlled relay-based volume control avoids channel imbalance and improves sound quality.
5 digital inputs: AES / BNC+RCA coaxial / RCA coaxial / Optical / USB
3 analog preamp inputs: XLR / RCA / RCA
Preamp / DAC output : XLR / RCA / ACSS (variable)
Headphone output : 4 pins XLR / 6.3MM SE
USB Audio Class 2 High-speed Input from Windows / MAC / Linux
Supports High / full speed Asynchronous Transfer Mode up to 384K / 32Bit ability .
Resolutions support 16 / 24-Bit with sampling rate support 44.1kHz, 48kHz, 88.2kHz, 96kHz, 176.4kHz, 192kHz ( USB model)
Supports up to 24Bit/96KHz (coaxial / AES / Optical )
The DSP-1(V5) digital processor supports NOS, 2X, 4X and 8X oversampling via customers setting.
Memorizes all settings and resumes the last setting when powered on (see user manual).

¡@
Sound Characteristics:
Reference-10.32 has extremely high fidelity; its SQ is neutral. It is very revealing of a recordings quality.
If only the RCA or 1/4" (6.3MM) headphone is used, is the Reference-10.2 not fully utilized?
Reference-10.32 is a real balanced DAC with built in headphone amp. It has balanced output (ACSS, XLR and balanced headphone output) and single-ended output . There are 4 ACSS amplifiers in the Reference-10.2 for balanced outputs and balanced inputs. Even when a single-ended output is used, the 4pcs PCM1704UK DA chips will perform fully thanks to the fully balanced design.
Note:
Reference-10.32 has 3 feet for best balance and minimal interference , 4 feet are available upon request when ordering.
Modification guide on headphone jack for 4-pin balanced headphone output.
Click here to read: modification guide
Parts for the modification is USD30. (Includes one female 4-pin plug and one male 4-pin plug, some tape and WBT tin solder)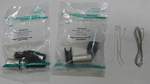 ¡@