TE8802 USB to I2S / Coaxial convertor
(Built in USB power supply, can accept external power supply. Have both I2S and coaxial output)

USB Audio Class V2.0 and V1.0
USB Audio Class2 High-speed Input from PC/MAC (Windows XP, Win7 32bit /64bit, MAC OS )
Supports full/high speed Asynchronous Transfer Mode
Resolutions support 16 / 24-Bit with sampling rate support 44.1kHz, 48kHz, 88.2kHz, 96kHz, 176.4kHz, 192kHz
Built in USB power supply , support external power supply
I2S output and coaxial output at same time

Price :
USD40 (without shipping cost, include TE8802 kit X1 , wire X2, RCA socket X1 )

Please note:
1, If applied external power supply, must pull off the two jumpers on the board, see the photo as below :
2, The TE8802 upgrade kit want to have some few soldering during upgrade, so the upgrade require users have well solder experiences.
3, If users have wrong wires connect between main board and the kit maybe shatter the TE8802 chip within few seconds, so the kits without any guarantee ( We will test and ensure the kits working well before shipping) .
4, The TE8802 upgrade kit spend 3.3VDC / 150MA , please ensure your devices have enough power supply before purchase . There is no problems of audio-gd products.


USB power supply setting :
(Users can place the kit at outside as an USB to I2S/coaxial converter.
If place in the gear but the gear have not enough power supply , users also can use USB power supply . )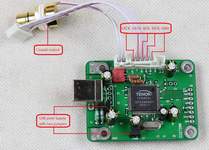 External power supply setting: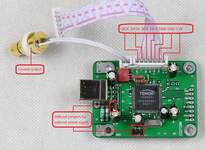 Best performance modify advice:
(Users can setting the TE8802 kit on external power supply model, connect a class A PSU module PSU-A for the power supply , boost the sound level to highest performance.
In this model the TE8802 still have power from USB through the PSU-A .)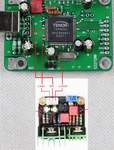 PSU-A link: (If order for TE8802, must inform while place the order)
http://www.audio-gd.com/Pro/diy/PSU-M/PSU-AEN.htm
Design:
Since November 2011 we have finished the TE8802 design and start 10 pcs TE8802 samples test. At 15th December 2011 , we had order the first batch TE8802 .
The Tenor company Chinese general agent declare they have limit release the TE8802 carefully, only accredit to few manufacturers can produce TE8802 products, and promisesed we are the first manufacturer produce batch products applied TE8802 in Chinese Mainland .

While we start design the PCB, we were consider the TE8802 running at 192KHz high sampling, it need good power couple to keep it working well and stabilization , so we design every power supply pins has applied 1UF with 0.1UF in parallel connection , and there are 4 pcs 100UF caps place on different parts of TE8802 power supplies.

For the caps can shortest connect to the TE8802 power supply pins, we design the caps on bottom side, the wires between the TE8802 pins and the caps less than 4MM length, guarantee the TE8802 working well and stabilization , reproduce the detail .