Easy modify the sound for a little more detail :
The Reference 5.32 initial design was have a little more detail and dynamic . Before release I discuss with some Reference 5 users from Australia , they consider follow the Reference 5 is better .
But I consider different users maybe have the different taste, so I design the modify possible for users do it by themselves .
See the photo on right ,there are four ACSS modules in the Reference 5.32 , and 3 caps on every modules . Cut the middle cap can get a little more detail and dynamic sound ( The middle caps maybe have different color) . Consider for users easy operate, we have install the caps with longer feet .

What's the modify expect :
If you have burn in the Reference 5.32 more than 300 hours or longer, and want to have slight more detail or brighter sound, you can cut these four caps without soldering . If you have consider the Reference 5.32 have proper sound for you, skip this as you have never read it .

Another modify easy with users:
The Reference 5.32 default install the WM8805 module for support 192K coaxial input . But a lot users feedback the DIR9001 module have more neutral sound and a little transparency . Replace the DIR9001 module is easy even without soldering .
Replace guide:
1, Shut down the Reference 5.32 and pull off the power cable is necessary .
2, Take off the top chassis , you can see there is a module place near the coaxial input . Take off the screw and pull it off carefully .
3, Push into the DIR9001 module proper, put back the screw .
4, Put back the top chassis , connect the power cable .
PS: Both WM8805 and DIR9001 modules have mark "DIR" , the different for easy verify is the WM8805 module have a black cap cover on the chip.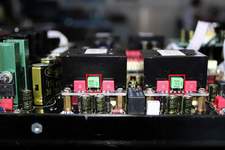 Setting button:
Select the Reference 5.32 output level at high (2.5V RCA, 5V XLR) or low (1.25V RCA , 2.5V XLR) , ACSS output have not function.