ก@

What different between NFB11 and NFB12 :

The NFB-11 has quite high fidelity, its sound signature is absolutely revealing, neutral and faithful and very detailed. It can show how good or how bad a recording is. If you are afraid of flaws being revealed in the music files, other gears like those applying WM8741 will be better. Our gears that apply WM8741 are designed to sound neutral and revealing but with a little smoothness . Like the FUN and Sparrow , NFB-3/2 , NFB-12.


The NFB-11 best match with the headphone which had neutral or warmer side sound characteristic .

The NFB-12 is a twin brothers of NFB-11 , for the sounding design request , we applied the WM8805 as the SPDIF interface , its sound characteristic is same with the WM8741 which is detail but smooth, and it can support up to 192KHz input.
The NFB-12 has revealing, neutral and faithful and very detailed but slight on warm side and a bit smoothness.


NFB-11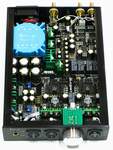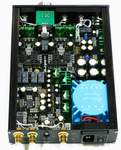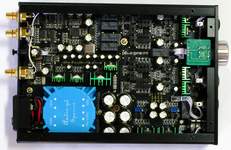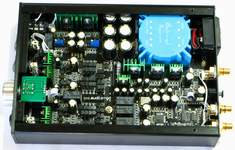 ก@
ก@

About ACSS:
ACSS (Audio-gd Current Signal System) is Audio-gd's system for transmitting audio signals in the current domain. This concept, first seen in 1966, we have used for many years, and since 2006, have evolved the technology to include all audio signals in our systems from the digital source to the power amplifier. Since 2005, ACSS comp5nts have become Audio-gd's most popular products, with a great many customers purchasing them in China and Hong Kong.


About NFB?

NFB means Non-Feedback.
The NFB-11 applies the newest ESS high-end Sabre32 DA chip ES9018 which can support up to 32Bit/192KHz input (Coaxial input, the optical and USB support up to 96KHz). Similar to other ES9018 designs, Our NFB-11 applies Non-feedback ACSS output stage. The ES9018 feed to the ACSS output stage without any OPAs so it can achieve very neutral sound quality.
The ACSS is a non-feedback technology made with fully discrete amplifiers. Most people know the global feedback design can offer better specs in test measurements, and non-feedback can't do well in test measurements but can offer better sound for the human's ears. Here is a conflict of the classic circuits. But the ACSS opens a new field, it can offer a least coloration sound which is more neutral with very low distortion and high linearity. So it can retain the dynamics, detail and neutral sound but not sound bright or harsh.
The output buffers are Non-feedback. For low impedance, we applied a diamond output stage which is quite less colored than most conventional circuits.
The DAC is without couple caps to avoid coloration.
The 24/96 USB interface outputs a I2S signal to ES9018.

Fully Discrete ACSS headphone amp.
Click image to enlarge.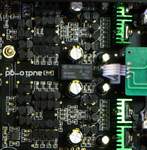 NFB-11 applies the excellent DA chip ES9018 and excellent analog output stages, but these are not the only keys of the best sound. The power supply is most important. Even applying the best DA chip and the best amp, if matched to a normal power supply, the total sound may still be average or sound musical but can't be neutral and detailed. That is why it is easy to find hi-end grade gears maybe without the best chips or amp stages, but with plenteous dedicated DC supply circuits.
The NFB-11 uses 6 groups of high-quality PSU with dedicated DC supply. Digital and analog voltages each have separately isolated internal power regulations.
The analog power supply is more important for sound reproduce, in NFB-11, the +15V and -15V for the ACSS analog output stages are high speed Discrete PSU. They can offer pure and quick power supply for driving the headphone exactly. The high voltage power supply can drive most headphone from 15 to 600 ohms as well.
Strong power supply.
Click image to enlarge.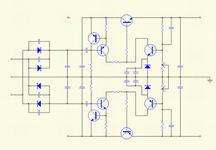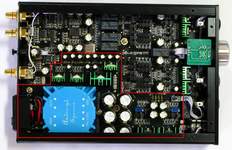 ก@
About volume in ACSS circuits:

For a headphone amp, the volume control is very important.
NFB-11 use ACSS technology, which is very different from conventional technology.
In conventional technology the gain is fixed, like 3DB or 6DB.
But in ACSS technology the gain changes with volume, and when you turn off the volume, the gain is -80DB or -100DB (in conventional technology it can't work lower than 0DB).
While you are listening in normal volume, the gain may be around -50DB, or between -80 to +12DB.
The volume control is also different from conventional technology. Conventional technology volume control is placed in the input, and attenuates the signal.
But in ACSS, it is placed at the ACSS modules output, where the output is the current signal, not the voltage signal. The volume control is I/V conversion, and the volume depends on the current (I) conversion to the voltage (V). (Like D/A chips output I/V conversion)
As you can see, ACSS circuits have no gain, as it is a completely different circuit.
The sound quality benefits from I/V conversion volume control. Mark Levinson also knows that current volume control has great benefits, so in their Top End preamp NO.32 volume control, they use many components to change the signal to current signal (I), then through the R-2R network to control the volume, and then change back to voltage signal (V) again. But NFB-11 is simply a more complete work in terms of the current signal, and technically, it is superior to conventional technology.
Hi-end grade construction:

The NFB-11 uses 20W high performance transformers . More than 10,000uf audio grade NOVER capacitors are used to ensure ample and smooth power feed. The NOVER capacitors are specially custom order from NOVER (U.K.) according to Audio GDกฆs requirement. Total of 6 PSU groups are used to purify the power supply. To achieve Silent operation, the control circuit is powered with separate regulator.




The NFB-11 uses high grade SMD resistors (1 % tolerance). RCA sockets are custom ordered and 24k gold-plated. All transistors are exact-matched Toshiba and Hitachi.



The NFB-11 applies the custom order ALPS 27 volume pot for reducing channel imbalance and improving on sound quality, the quality is higher and much more costly than the standard ALPS 27 more common in the market.

ALPS 27 volume pot Vishay SMD resistors (1 % tolerance)
Click image to enlarge.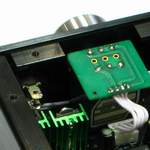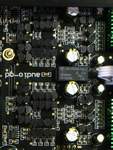 All-aluminum chassis can reduce noise pick up .



The PCB employs 2MM double copper/stringy board, 70uM copper.



All Audio-gd's workers are hi-fi enthusiasts and skilled electronic assemblers.



Prior to shipment, our products are burned-in for 100 hours, and undergo at least 10 times a variety of tests to ensure they work perfectly for the customer.


The NFB-11 Functions:

Front plate:
Output switch: Select output between headphone, Fixed DAC output and Variable DAC output.
Gain switch: Select gain between low gain (+0DB) and high gain (+12DB).
Volume knob: Control the volume level of the headphone and variable DAC output.
Selector switch: Select source between USB, coaxial and optical.

Rear:
Power socket: For power input and power ON/OFF switch.
USB socket: For USB input.
Opt socket: For optical input.
Coax socket: For coaxial input.
DAC out sockets: For dedicated DAC output. (The DAC output level can be chosen between variable and fixed , see below).

How to set the NFB-11 DAC output as variable line level only?

The NFB-11 has one group Line out for dedicated DAC output, in default its output level can select between variable and fixed. But owners can set it to output variable line level only (if yours amp or active speakers without volume control, we advice setting to variable output only). See the photos, change the jumper to "variable" side for setting the DAC output to variable only.


Setting the Fixed and variable output The new functions after setting DAC output sockets
to variable only

The NFB-11 include these accessories:
AC power cord X1
Optical cable X1
USB cable X1



Choice of power cable appropriate for your country:
When you place the order for NFB-11, please let us know the type of power cable you require.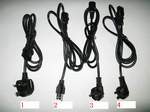 Pack Weight: approximately 2 Kg



Size: Width 159mm, height 42mm and depth 225mm.(With feet)



Price: USD275 ( Promo ) (Excluding shipping charge)




Audio-gd exclusive power cable, XLR cables & Canare coaxial cableกG

Cable links http://www.audio-gd.com/pro/cablesEN.htm
ก@
ก@