ก@

What's between ROC and ROC SA:

ROC SA has our Diamond differential amp circuitry. Diamond differential amp had been applied for many years in our gears, like our new DAC Reference 8/9, SA-300 power amp, and SA-3000 preamp. Sound signature is musical and detailed, with a little coloration and a little on the warm side, and will be forgiving of poor recordings. It can allow the sound to be a bit richer and better.
ROC sound as "A wire with gain".
Usually, in our products, if I use ACSS technology, I will design the sound signature as neutral.
Neutral in my mind, is neutral and faithful-like, Roc doesn't have any particular character, like our other ACSS products, its sound depends on the source, Roc reveals to you the merits or shortcomings of your source. It only drives the headphone, without coloration. I think, use of the word "neutral and faithful" will be better than the use of "neutral".



Applies all audiophile grade components, including DALE resistors, EVOX caps (German brand), custom order NOVER (UK brand) caps, all audiophile grade input & output sockets.
ก@

The input/output of Roc SA:
Roc SA has ample inputs and outputs, and includes two RCA inputs and one XLR input.
When fed with an RCA signal, Roc SA can change the RCA signal to an exact XLR signal at the built-in Diamond analog amps.
When fed with an XLR signal, it can re-proofread the XLR to make a complete mirror (exact) XLR signal. In cases where the source output XLR signal is not exact (Hot signal level is not the same as cool signal level's absolute value), through this re-proofread process, it can correct the signal to produce an exact XLR signal.
In short, whatever the input might be, Roc SA will output XLR signal to Headphones, unless your headphone is plugged into the single-ended output socket.
It has one 4-pin xlr, and one SE 6.5mm stereo socket for headphone output. For preamp output, it has one RCA and one XLR output.

Diamond differential output circuits:
Benefits from two high speed diamond differential output circuits, excellent linearity and low phase distortion. Diamond differential circuit is being loved and supported by more and more audio fans. Although the circuit is complex, the sound quality is impressive. We've done a lot of study and experimentation on diamond differential current these many years, aiming to get a better solution of circuit design.

For the audio system, high analyzing ability is the most important requirement. The detailed recurrence of resolution lies in the upward and downward characteristics and the noise level of the output amplifier. Because output amplifier is the bottleneck, if the upward characteristic is not good enough, the signal cannot be followed correctly on time and amplifier can only catch half or even less of the signal level when it disappears. This leads to a downsizing of the original range of signal output from amp, which directly causes obscurity or even loss of sound effect and a low analyzing ability. A lot of amps, therefore, even with a highly analytical DAC in the system, cannot play most of the details due to its low analog circuit speed. To get a good upward characteristic, the only way is to use a high-speed low-noise transistor amplifier. Even operational amplifier and tube cannot compare with high-speed low-noise transistor amplifier in effectively lowering the TIM distortion which has a big impact on the sound quality and promising a pure and pleasant sound delivery.

Design Features::
In the ROC SA, we applied the new volume control system, replacing the normal volume pot with 32-steps volume control through relays and resistors, which can offer better sound quality than the normal volume pot. We apply two volume control modules in Left and Right channel separately for lowest channel crosstalk, also they avoid channel imbalance at any volume level.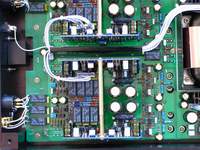 The ROC SA applies high voltage power supply (DC +30V and -30V after the PSU), so it can offer large power output, like 15W at 60 ohms and 3500MW at 300 ohms, it can drive most headphone properly.
To achieve a perfect performance, it also applies the high performance Discrete pow