Audio-gd products had design and test based on the AP SYS-2722 (The top-drawer professional equipment in world)



Amanero combo 384 Intruduce and driver download
Xmos U208 Introduce and drivers download
¡@
Since 4th. April 2018, the model had upgrade the volume ports:
The upgraded volume ports had built with Vishay or KOA resistors with dual resistors parallel , tolerance low to 0.05% .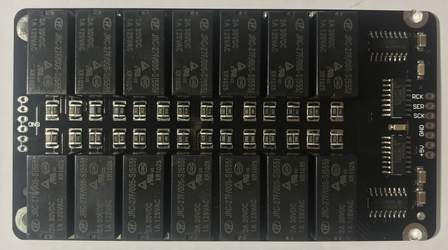 Differences between NFB-29.38 and NFB-29.28:
The NFB29.38 has built in ES9038 Pro, NFB29.28 has built in ES9028 pro, other parts are exact same. As for sound quality, NFB29.38 is slightly better if it comes to transparency.

Differences in comparison to NFB-28.38:
The NFB-29 is a single ended DAC with headamp and preamp (+/- 30V DC high voltage power supply ), The NFB-28 is balance DAC with headamp and preamp (+/-15V DC power supply ). So They had same output power specs and can drive most headphone very well.
If customer like to use headphone with single ended connector (6.3MM), choice would be NFB-29H it get better performance than the NFB-28.
If customer like to use headphone with balance connector choice would be NFB-28.

Summarize
Multi-ply shield boards to isolate the power input sockets, transformer, power supplies, digital part and the analog part .
Fully Discrete design built by discrete analog stages built in headphone output (4-pin XLRor 1/4") and preamp output.
Non- feedback ACSS analog output stage .
Analog amps work under +/- 30VDC for super linear characteristics and offer high power output in single ended design.
LED display avoids RF disturbance for better sound quality
Large R-core transformers and Hi-fi grade parts like DALE resistors, WIMA caps .
Total of 6-groups of PSUs are used to deliver pure power . The analog amp has discrete PSU power supply
Two-channel digitally controlled relay-based volume control is applied to avoid channel imbalances and to improve sound quality.
100 steps volume control that can work very well with high and low sensitivity headphones and speakers.
4 digital inputs: USB / I2S /Optical / Coaxial RCA
2 analog inputs: RCA / RCA
DAC output: RCA / RCA / ACSS (User can set either variable output level and use as preamp or fixed output level and use as dedicated DAC )
Headphone output : 4 pin XLR / 1/4" (6.3MM) SE
4 types of gain mode will drive the high and low sensitivity headphones with ease .
¡@

Technology detail
Detail of the Current Conveyor Technology

Impedance matching:
The NFB-29 had two groups of analogy RCA inputs .You can connect external DACs , working as a dedicated headphone amp .There are a lot different DACs designs with different output impedance . To avoid negative effect on sound quality by differeces in output impedance, the NFB-29 has implemented into the design a pair single-ended class A FET buffers on all the inputs.. All the analog RCA input signal travel through these FET buffers, where the output impedance had become very low, even if the source has high or low output impedance.
The FET buffers work in pure class A state, and it is short signal journey , keep the sound quality without coloration ,(dry or harsh )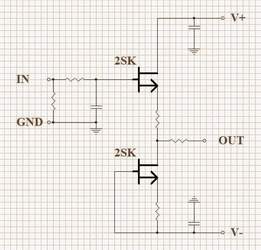 Simple and short signal transfer offer best sound quality :
The NFB-29 applies the newest ESS high-end Sabre32 D/A chip ES9038Pro which can support up to 32Bit/384KHz input .
ES9038Pro in voltage output mode offers performance by -12DB THD+N .To achieve the best performance of ES9038Pro , dac has to work in current output mode .
The ACSS circuit by design work in current mode and it can transfer the ES9038Pro current signal to the output and implement the I/V conversion in current mode in one ACSS amp . And this ACSS amp only have one current gain stage , the ES9038Pro output signal only has to go through one stage .
The shortest signal path allow to reproduce the best detail and dynamics, and almost without any sound coloration . It can show the real performance of the ES9038Pro .
So our ACSS design is the best combo with ES9038Pro to achieve the best performance .
The ACSS also is a non-feedback technology made with fully discrete amplifiers. Most people know the global feedback design can offer better specs in test measurements, and non-feedback can't do well in test measurements but can offer better sound characteristics for the human's ears. Here is a conflict of the classic circuits.
But the ACSS opens a new field, that can offer a least coloration to the sound which is more neutral with very low distortion and high linearity. So it can retain the dynamics, detail and neutral sound but not be bright or harsh.
The output buffers are Non-feedback. For low impedance, we applied a diamond output stage which offers less coloured sound than most conventional circuits.
The DAC is without de coupling caps to avoid any sound coloration. There are two OPAs built in as the DC servo to keep the DC offset in check.
The 32bit / 384K USB interface outputs a I2S signal to ES9038Pro .
Super low THD ¡]Test by AP SYS-2722,0DBV output level) Flat frequency response ¡]Test by AP SYS-2722)


¡@
diamond differential output stages:
The NFB-29 has a pair or diamond differential output stages, every part is exactly matches before assembly.
The output stages work under + / - 30V DC power supply built in two pair of 15W transistors which offer strong drive capability (no matter if you use high or low sensitivity headphones) . The diamond differential design can avoid switching distortion .It works in the class A but don't draw large idle current .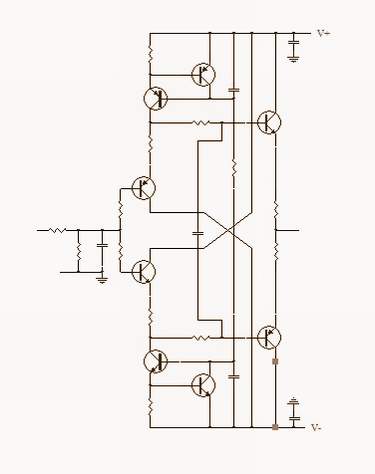 ¡@
Multi-ply power supplies are the key of sound :
NFB-29 applies the excellent DA chip ES9038Pro and excellent analog output stages, but these are not the only keys of the best sound. The power supply is most important. Even applying the best DA chip and the best amp, if matched to a average power supply, the total sound may still be average or sound musical but can't be neutral and detailed. That is why it is easy to find hi-end grade gears maybe without the best chips , but with plenteous dedicated DC supply circuits.
The NFB-29 uses A total of 6 groups PSU power supply for all digital and analog circuits.
To achieve high S/N, the control circuit is powered with separate regulator.
The I/V conversion volume control without sound degradation:
Usually the volume control can be implemented in the DAC + amplifier combo in two methods
Method 1: The volume control is implemented into the digital stage. The major drawback is that 1 bit of the D/A conversion is lost in every 6DB volume reduction. So, even though the built-in DA chip is 32 bit, in fact, only 16 bit may be left at low volume level.
Method 2: The volume control is implemented in the analog amplifier input stage through a volume pot by reducing the signal level. However, the volume pot affects the sound quality adversely. A low grade volume pot loses the details and creates channel imbalances resulting into soundstage distortion. Even a high grade volume pot inevitably loses the details. Both methods degrade the sound quality.
The NFB-29 applies the I/V conversion volume control, the volume control is just a variable passive I/V conversion being placed at the ACSS amplifier output, where the output is in current mode and not voltage mode . I/V conversion changed the volume level from the current (I) signal to the voltage (V) signal. (Like R-2R D/A chips output passive I/V conversion) It can keep the signal frequency band flat while not losing any detail. It does not degrade the sound quality at any volume level. In front of the volume control, there are four groups of diamond non-feedback buffer output stages that offer very low output impedance.
Mark Levinson also knows that current volume control has great benefits, so in the volume control of his top grade hi-end preamplifier No.32, he uses many components to change the voltage (V) signal to current signal (I), then through the R-2R network to control the volume, and finally changes back to voltage signal (V) again. NFB-29 simply works in current (I) signal domain, and technically, it is superior to the conventional technology due to less conversion.
NFB-29 applies digitally controlled relay-based volume control in 100 steps. It has 90DB control range ( most other volume control only has around 70DB range, ) that allow users to control the volume level smoothly. NFB-29 has two relay-based volume control applying DALE resistors to control the volume and avoiding channel imbalances . That in turn allow for achieving the best performance and sound quality of the audio gear. While changeing the volume, the combine relays break or close, it may have slightly switch piping sound in the output.(only while changing volume level)

Precise digitally controlled relay-based volume control. Fast / Slow two volume control characteristic
The Multi-ply shield boards to prevent cross contamination of the signal.
The NFB-29 has built in Multi-ply shield boards, to separate the transformer, power supply, digital parts and analog parts to avoid cross contamination .Even though the power input IEC socket, has a copper shield apply to it.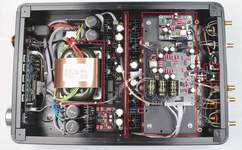 Static storage mode control software:
In most control softwares designs the MCU will continuously output data . the MCU has the very high speed, so the output data become high frequency impulses and can affect the audio signal . This product had applied static storage mode control software .this design Vastly improve sound quality.(clarity and transparency )

Components:
Uses all Hi-end grade components, including DALE resistors, WIMA caps, custom order NOVER (UK brand) caps, Neutrik headphone output socket, ect .