About ACSS:
ACSS (Audio-gd Current Signal System) is Audio-gd's system for transmitting audio signals in the current domain. This concept, first seen in 1966, we have used for many years, and since 2006, have evolved the technology to include all audio signals in our systems from the digital source to the power amplifier. Since 2007, ACSS components have become Audio-gd's most popular products.
Technical features:

Dual mono design: genuine Class-A parallel current transmission gain circuit design from signal input to output. At the input stage, audio signal in voltage mode will be transformed into current mode beforehand and the signal remains intact through the gain stage to the output stage. If the input signal is in ACSS mode, it will reach the gain stage directly for ACSS signal amplification. Setting aside the improvement in acoustics, balanced bridging circuit doubles the scale of circuit and also increases the cost.

All signal amplifications are in current mode, achieved by the unique open loop multiple output current mirror and with good open loop linearity. It yields ultra high precision yet very low distortion to the gain circuit, signal paths are in balanced mode throughout input to output and all transistors are working in Class A status.

No total negative feedback circuit is in the amplifier, which could only be achieved by very linear current transmission amplifier with ultra-low distortion which produce open, clean and pleasing sound.

Driving stage of ultra-low distortion provides output stage with high speed and linearity, yet minimal exposure to effects to low resistance or low reactance loading.
Click image to enlarge.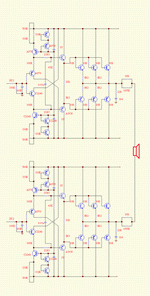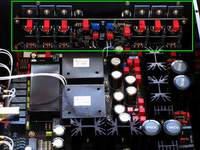 24 high power transistors rated at 15A are used and work in Class A mode which guarantee most existing speakers receive good damping.

The class A parallel connection PSU has very high input impedance to avoid pulse through the PSU from affecting the DAC and low output impedance with very fast speed and high linearity, so it is a very clean power supply. In my experience, its sound is better than battery power supply, better human sound and neutral.

Click image to enlarge.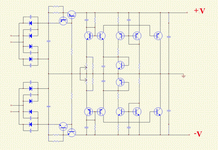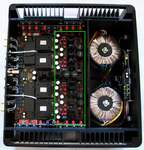 Two toroid 650w transformers made with imported high quality cores are sealed in isolated board, getting rid of interference to the critical amplifier circuit. The circuit thus could work in a quieter and cleaner environment. Filtering capacitors of 140,000uF in total guarantee ample power supply even to highly dynamic signal.
Click image to enlarge.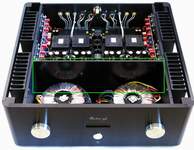 About volume in ACSS circuits:
C-500 use ACSS technology, which is very different from conventional technology.
In conventional technology the gain is fixed, like 20DB or 30DB.
But in ACSS technology the gain changes with volume, and when you turn off the volume, the gain is -80DB or -100DB (in conventional technology it can't work lower than 0DB).
While you are listening in normal volume, the gain may be around -50DB, or between -80 to +40DB.
The volume control is also different from conventional technology. Conventional technology volume control is placed in the input, and attenuates the signal.
But in ACSS, it is placed at the ACSS modules output, where the output is the current signal, not the voltage signal. The volume control is I/V conversion, and the volume depends on the current (I) conversion to the voltage (V). (Like D/A chips output I/V conversion)
As you can see, ACSS circuits have no gain, as it is a completely different circuit.
The sound quality benefits from I/V conversion volume control. Mark Levinson also knows that current volume control has great benefits, so in their Top End preamp NO.32 volume control, they use many components to change the signal to current signal (I), then through the R-2R network to control the volume, and then change back to voltage signal (V) again. But C-500 is simply a more complete work in terms of the current signal, and technically, it is superior to conventional technology.
ACSS is fully non-feedback with very low distortion, so sound is neutral (neutral and faithful) because it has no feedback effect.
C-500 applied out remote control volume pots can avoid channels imbalance.
¡@