The C-2 SA functions:
Front plate:
Volume knob: Control the volume level of the headphone/pre amp.
Gain button: Push in for high gain (+13DB), out for low gain (+4DB).
Pre button: Push in for preamp output, out for headphone output.
Selector knob: Select input signal.


Design Features:
Sources selector:
The C-2SA input selector allows users to set the shorting functions. It can be set to short out the unused input signal to GND just to avoid the disconnected input signal from affecting the active input signal. To enable this setting, users just push the jumpers on, see the below photo. But if users use one source to feed to two amps, there may be no sound while the C-2SA is powered off, so users can pull off the jumpers in this case.
Click image to enlarge.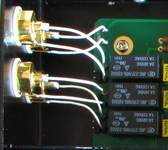 Diamond Differential amp:
Benefits from the high speed diamond differential amp circuits, excellent linearity and low phase distortion, diamond differential circuit is being loved and supported by more and more audio fans. Although the circuit is complex, the sound quality is impressive. We've done a lot of study and experiments on diamond differential current these many years, aiming to get a better solution of circuit design.

The diamond differential amp circuits is a non-global feedback technology made with fully discrete amplifiers. Most people know the global feedback design can offer better specs in test measurements, and non-global feedback can't do well in test measurements but can offer better sound to human ears. Here is a conflict of the classic circuits. But in C-2SA, we applied an accelerator before the output stages which can reproduce perfect test performance based on a non-feedback output stage.
The input buffers are Non-feedback. It can keep all input signal at low impedance to reach the best performance of the diamond differential amp.
The volume applies parallel connection mode which can offer better sound than the standard mode.

Click image to enlarge.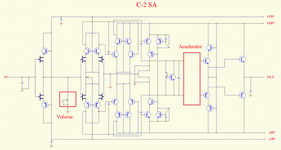 ก@

The power supply is more important for sound reproduce, in C-2SA applied the high speed Discrete PSU +/- 33VDC power supply for the Diamond Difference amps. They can offer pure and quick power supply for driving the headphone exactly. The high voltage power supply can drive most headphone from 15 to 600 ohms as well.

Click image to enlarge.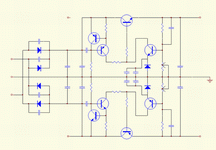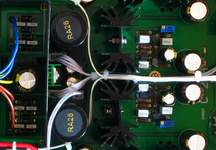 C-2SA is a fully discrete amp without any OPA inside, It is also without couple caps and DC servos, has a non-feedback output stage, and must depend on how exactly-matched transistors are. This is hard work which most factories are unwilling to do. But this configuration is the way to arrive at better sound.

Hi-end grade construction:

The C-2SA uses a 80W high performance transformer. The NOVER capacitors are specially custom ordered from NOVER (U.K.) according to Audio GD's requirement. To achieve Silent operation, the control circuit is powered with separate regulator.

The C-2SA uses high grade DALE resistors. RCA sockets are custom ordered and 24k gold-plated. All transistors are exact-matched Toshiba and Hitachi.

The C-2SA applies the custom order ALPS 27 volume pot to reduce channel imbalance and improve sound quality, the quality is higher and much more costly than the standard ALPS 27 more common in the market.

All-aluminum chassis can reduce noise pick up.

The PCB employs 2MM double copper/stringy board, 70uM copper.

All Audio-gd's workers are hi-fi enthusiasts and skilled electronic assemblers.

Prior to shipment, our products are burned-in for 100 hours, and undergo at least 10 times a variety of tests to ensure they work perfectly for the customer.

ก@